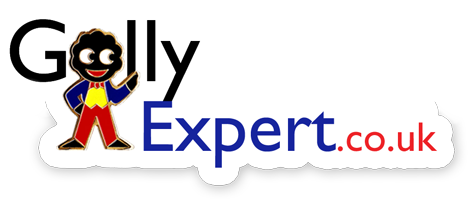 Unknown Early Mask
12-Nov-2020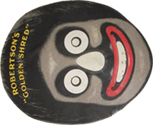 The majority of genuine Robertson's items have been carefully catalogued over many years by the world's leading collectors and published for others to enjoy in the form of the the Golly Checklist. However, new items still turn up and it is only the diligent effort by keen collectors to identify them that enables a more complete picture to emerge.
One such item appeared on an online auction of a vintage scrapbook recently. Contained within it were many paper items that had been carefully collected and displayed. The image below shows the exact image that was used in the sale of that item.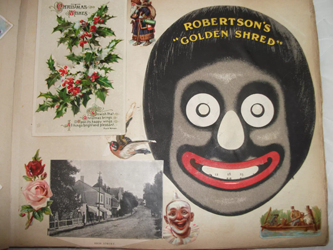 Amongst the post cards and old photos the face like figure doesn't seem like the obvious candidate for a genuine Robertson's item, but upon closer inspection all becomes clear as the company's name and their trademark product "GOLDEN SHRED" is printed on the hair of this scary looking mask. This item was not previously known to exist but now it has been identified and confirmed as genuine. I have passed details of it to the authors of the Golly Checklist and it is recorded in their archives for the benefit of all collectors.