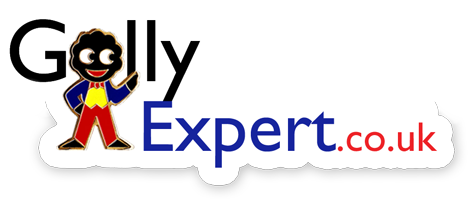 FAQ
How much are my badges worth?
The value of an individual badge depends on a number of factors. The most important is its condition. A rare badge in mint condition can be worth over ten pounds however, the same badge with significant damage might only fetch 5%-10% of that price. This is why we always insist on clear images of the front and - if possible - the rear of the badge before giving an estimate of its worth. A badge in mint condition will always command a premium, below is an example of five prewar golfers we have in our collection, as you can see, the condition ranges from extensively damaged on the left, through to near-mint on the right hand side: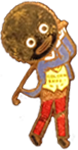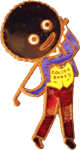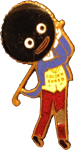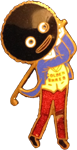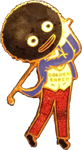 My badge has a fine line across the legs, what does that mean?
This kind of damage is very common - known as a stress mark - it is where the enamel in the legs has cooled down at a different rate to the metal of the badge, the internal stresses in the cooling process causing the enamel to crack. Such damage may also occur if the badge is dropped or bent. This damage is particularly obvious in the legs where the enamel is translucent and hence easier to spot. If the damage is serious this may eventually lead to enamel loss. All golfers above show signs of stress mark damage.
How do I know if I have a rare badge?
Since the first enamel golly badge was released in 1928, Robertsons have sent out over 10 million badges. During the height of their popularity in the 50's & 60's such was the demand that they were ordering badges from the manufacturers in batches of 10,000 at a time. Therefore, the vast majority of badges are very common and their price reflects this. Having said that, there are rarities amongst them and we regularly hear from people who have one of the rarer specimens tucked away in their drawers, or inherited from an old relative. When you contact us we will provide you with free impartial information on your badges and an estimate of how much we would be willing to pay.
I have inherited a collection and I want to sell it, what should I do?
We are happy to buy complete collections as well as individual items. Please contact us to discuss what you have. We will give you free impartial advice and guarantee to pay the best prices for your Robertsons golly badges and memorabilia.
I want to start a collection, have you got any advice?
The most comprehensive resource on the subject is the Robertsons Golly Checklist produced by Colin Dodds. This excellent guide lists all known badge variations ever issued and is a treasure trove of golly related information. Although it is out of print now, copies of the CD Rom are available from the author, contact us for details. Given the amount of merchandise commissioned over the years, Robertsons Golly collecting makes for a fascinating hobby. Besides golly badges, other items that make a great collection include jam jars, jar labels, jar lids, adverts, paper tokens, table ware, stationery, games and toys, stickers and transfers, porcelain and plaster models, keyrings, jeans patches the list goes on and on... my advice would be to start with an area that interests you and aim to build up a representative collection before moving on
I have a badge but it is extremely badly damaged, would you still buy it?
We are often approached by people with 'metal detecrtor finds' that are severely damaged and the badges are essentially worthless. In this instance, rather than see these items go to landfill we offer a 'golly sanctuary' where we guarantee to look after the little fella's in a corner of our collection
. In this instance, we ask people to write a short note on the provenance of the badges so we can build up a collection of memories. We are often asked to take badges from relatives that have passed away and this is a chance to immortalise the memory of a loved one.
I have some Golly items but they are not badges, are you still interested?
Over the years, Robertsons produced hundreds of promotional items from clothing and stationery to games, puzzles and toys. Although they are not as collectable as the badges we are still happy to hear from you and give you a price for them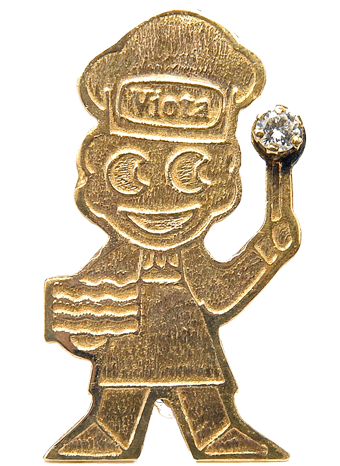 9ct Gold Viota Baker with Diamond C1985